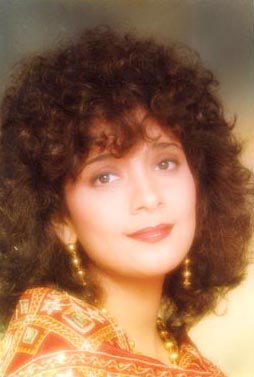 Penaz Masani
About
Dreams in platinum and gold for you.
She's cool, she's flip…. lives in tights and sweat-shirts and swears on Whitney Houston. She is the antithesis of what a ghazal singer's image is supposed to be. Yet she sings pure Urdu ghazals and is the most saleable star of the genre in this art.
Ghazal lovers in many parts of the world have listened spellbound to the silken sounds of magic that have flowed from the throat of Penaz Masani – a name that is well established in the world of Indian music today.
It was in 1981 that she took her first steps into the arena of ghazal music – the domain of veterans. And since then she has cut over 20 discs and sung in over 10 languages ! Today she stands like an enchanting Indian melody carved in the golden
tableau of ghazals. She has truly embarked onto the fast track of success and the horizon glows with more promise…….
A graduate of Mumbai University, Penaz has also firmly established herself as a playback singer for the Indian Cinema. She has to date performed under the banner of music directors like Jaidev, R D Burman, Usha Khanna, Chand Pardesi, Nadeem Shravan, Raaj Kamal, Rajesh Roshan and Anu Malik. She has sung for over 50 hindi films and has been privileged to perform with renowned south Indian music virtuoso Dr Balamurali Krishnan in a Tamil film.
Swinging with the times, Penaz has shaped her repertoire to include the mod beat. Her versatility can be judged by the fact that she entered the realm of Pop Music with her album "Tu Dil De De" which topped the charts on the Asian Television's Channel V and Mtv Channels !! Music for this highly succesful album (which has placed Penaz among the top-ranking Pop artistes of today) was composed by Canada- based composer Rehman Rajan and the album was recorded in Toronto.
Away from the arena of TV appearances and disc recordings, Penaz has taken stage in a glorious manner before audiences both at home and abroad. The world is literally Penaz's stage : Mumbai, Calcutta, Delhi, Chennai, Ahmedabad, Indore, Bhopal, Bangalore, Huderabad, Pune, Jaipur, Jodhpur, Baroda, Rajkot, Lucknow and many countries of the Middle East, Latin America and the U.S., Australia, Bhutan, Mauritius, Seychelles, Nepal, Sri Lanka, Fiji and the U.K. She is the first female artiste who has held solo performances running into a record 500 in India alone.
Each performance witnesses a new richness in Penaz's renditions that leaves an appreciative audience utterly charmed.
In 1996 the state government of Uttar Pradesh – India's largest state – conferred the unique title of "Shehzadi Tarunnam" on Penaz, in recognition of being the best ghazal singer in the country.
Penaz is today one of the first ghazal singers to have been awarded a Platinum disc. This is in addition to three Gold Discs that she has already received. Not an unexpected cache for a magnificiant and vibrant performer !
---
Background
Penaz was born into a family that had paternal roots in classical music : her father was a discpile of Ustad Faiyaz Khansahab of the Agra gharana : a classical singer in the court of Sayaji Rao Gaekwad of Baroda in the 1930's, where he performed to an audience of royals and courtiers. Penaz had her first lessons in the same tradition under the tutelage of Ustad Amanat Hussein Khan and later became a disciple of India's famed and most revered ghazal exponent Madhurani. The beginnings of a true artiste were carved into the Indian classical music scenario.
The melodious promise of a rich blossoming singer was noticed by famous composer late Jaidev after she won the Sur Singar Samsad contest in 1978. He took a keen interest in the young artiste and encouraged her to perform with a rare confidence which was the raison d'etre that culminated in Penaz's maiden success on TV. Viewed on screen by millions of TV viewers was a young exponent of this Urdu art form, who had stepped effortlessly into a revered domain, leaving viewers utterly spellbound.
Since the glorious introduction, Penaz has sung and participated in countless prestigious programs on Doordarshan, Star TV, and Zee TV.
---
List Of Albums
1. Aap Ki Bazm Mein
2. A Dream Come True
3. Dilruba
4. Khazana – '82, '84, '85, '87 & '88
5. Saugaat
6. Mehakte Nagme
7. A Gift Of Song
8. Khahkashan
9. Tishnagi
10. Best Of Penaz
11. Bansi Bajaiya
12. Nasha – Double LP
13. Dhadkan
14. Dil Ke Kareeb
15. Pooja Ke Phool
16. Tu Hi Mera Dil-Tu Hi Meri Jaan
17. Mohabbat Ke Sagar
18. Dil Mein Ankhon Mein
19. Tu Dl De De (Pop)
20. Channel Hits II (Pop)
She then moved over to Magnasound where she took on a new avatar as an artiste : cutting an album where the music was western while the lyrics retained the traditional form of the ghazal but in a younger, racier mood for the new generation afficionados. The album is labelled " Dil Mein Ankohn Mein". It was widely acclaimed and accepted and has graced the shelves of every music outlet across the country and overseas with success.
---
Contact Information
Penaz Masani
562, Rustom Mansion
Adenwalla Road,
Matunga,
Mumbai 400019
Tel :(91)(22) 4310734
Fax :(91)(22) 4130578
e-mail: penazmasani@hotmail.com